Reachfly Prefab House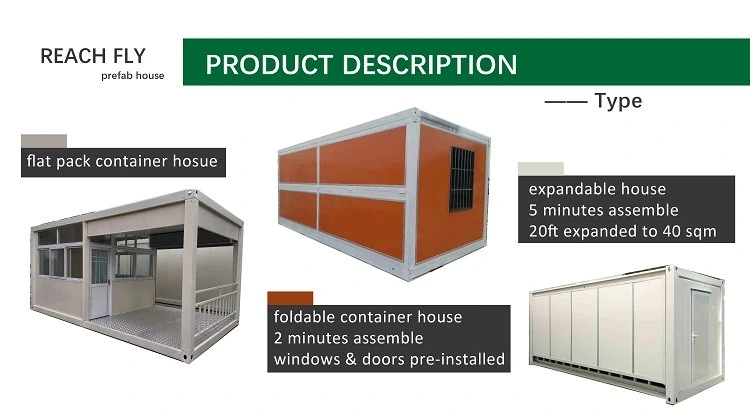 Product introduction
Reachfly new container house:
neat appearance, no welding points, bolt assembly, green and environmental friendly, long service life, convenient dismounting and assembling, low cost, fast construction and quick delivery.
Reachfly house information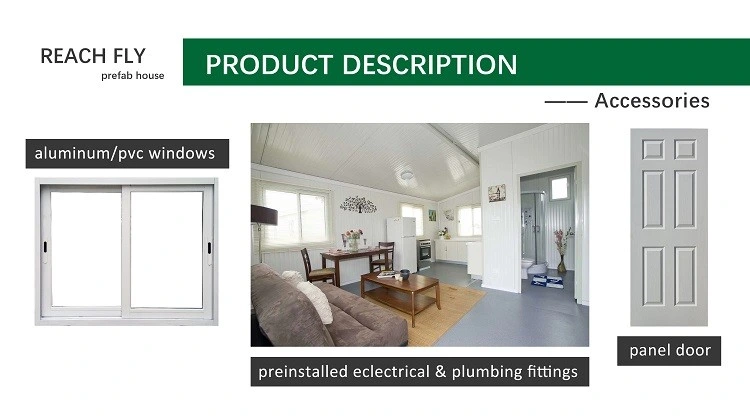 Advantages of Reachfly container house
1. Corrosion resistant

2. Safe and stable, anti-seismic
3. Environmental friendly, no garbage
caused

4. Good sound insulation

5. Light weight and easy to be installed

6. No base work involved

7. Beautiful appearance, different colors
and patterns for the wall and roof

8. Cost saving and transportation
convenient
Material details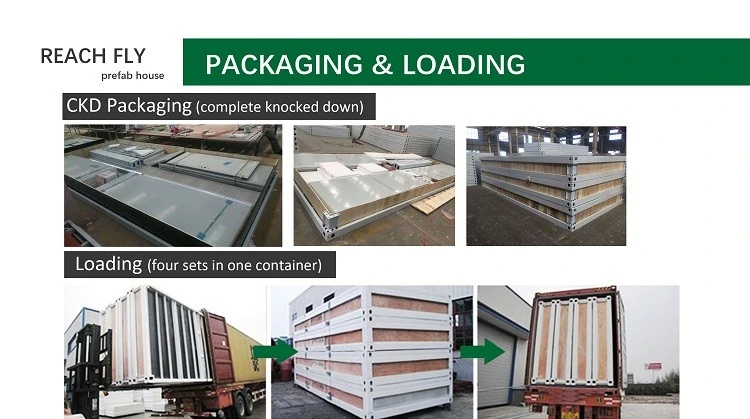 Q1: Could you please design a new and unique container house for me?
A: Absolutely! We are able to provide you with not only design sketches, but also construction scheme. One-stop service is our dedication.

Q2: What should I provide to build a prefab container house?
A: So easy! Sketch drawing would be a better reference for us. However, you will never mind if you don't have any. Simply notify us your requirements, such as the area, usage and the storeys of the house. Before long, you'll possess an amazing design.

Q3:How do we cooperate on certatin project?
Firstly, please send us your project details and your requirements. Then we will design accordingly, free of charge. Afterwards, please check and confirm whether you like the drawings. If not, we shall get the drawings revised until your confirmation. Finally we make a deal on alibaba.com with Trade Assurance.
Project details ---> Drawings for your project ---> Revised drawings ---> Transaction confirmation with Trade Assurance

Q4: How Long does it take to build a container house?
A: It depends on the size of the house. Generally, one 50 square meter house five workers 1-3days finished installation, save manpower and time

Q5: Is it difficult to build a container house?
A: Totally not, you can build the house independently according to the construction drawings.

Q6: Does prefab container house look different from the ordinary one?
A: Yes. Container house is more beautiful and suitable for any style.

Q7: What are the advantages of container house compared to the traditional building?
A: Better insulation of sound and heat, fireproof and anti-seismic,wind resistance, labour saving,termite-proof, easy and quick to be installed, easy transportation.

If you are interested in our products, please feel free to contact with us. We can ensure any of your inquiry will get our prompt attention and reply.Warmly welcome to visit our company any time!
Our company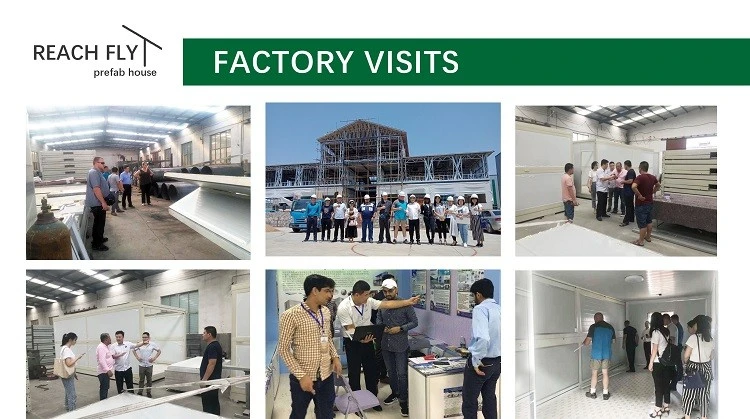 Qingzhou Reachfly Environment Technology Co. Ltd is a professional enterprise that produces and supplies green building materials.
To meet the market demand for green buildings, after long-terms of science and technology research, now we have developed a new type of interior and exterior wall metal decorative insulated sandwich panels, the light steel keel and other core materials for prefabricated houses.
We provide one-stop professional service that covers the planning and design, building material configuration, technical guidance, construction and installation of prefabricated houses.